Trugs, trays, baskets and crates all have so many uses in the home. They help to keep things neat and tidy, are a good place to store items and usually make things easier to find. Sometimes they are there just for  purely decorative purposes. These ten items that I have chosen from notonthehighstreet.com will hopefully give you some ideas for your home.
Chateau Bourgneuf Wine Crate Trug

Here's a display that's a little bit different with a wooden trug, some pretty silk flowers and a trendy interiors magazine (with perhaps an addition of a bottle of Pomerol!)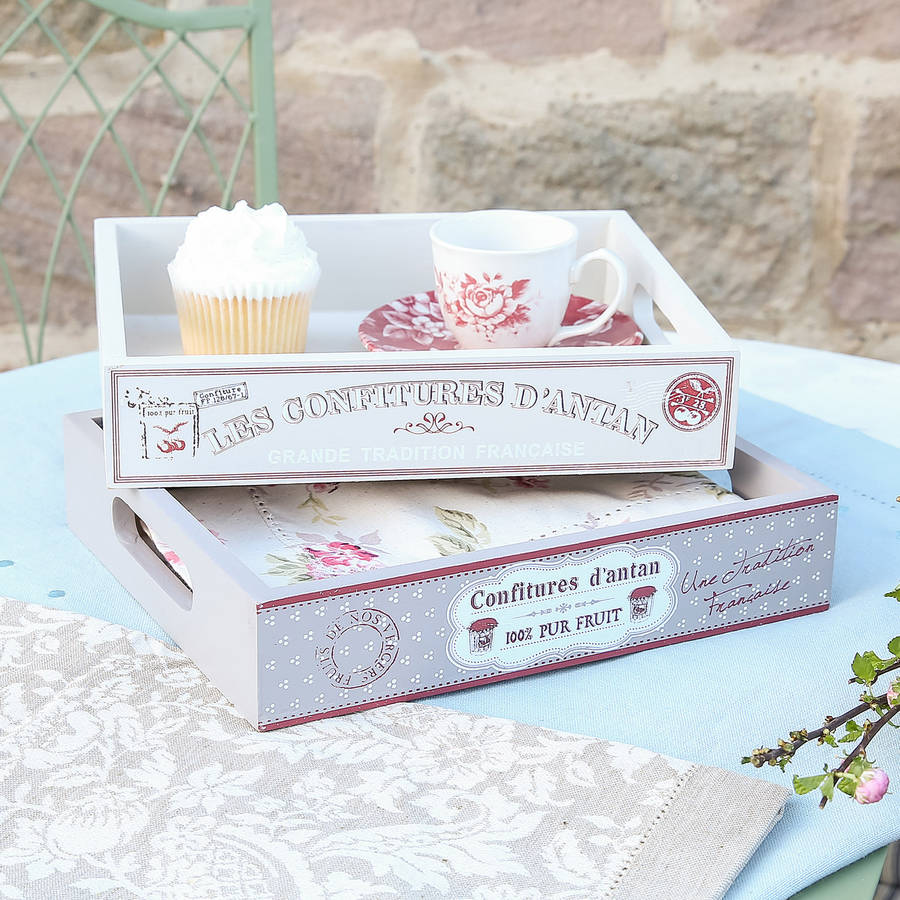 Set of two French cream and grey trays

Show off your home-made produce with these lovely trays.The message on the side reads 'Les confitures D'Anton' which translates to 'jams of yesteryear'. Perfect for your confitures.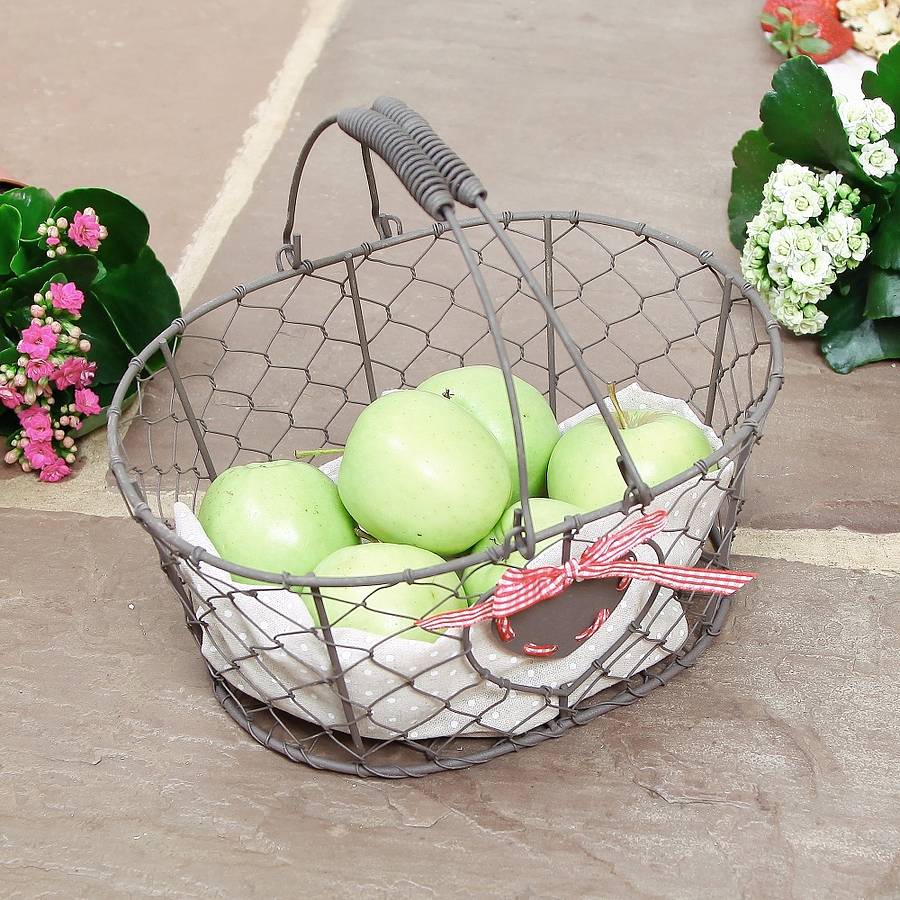 Heart wire trug
Line the base of this wire trug with pretty material or tissue paper. Pop in some fresh fruit or if you keep chickens, then use to collect and store the eggs (supermarket eggs will look equally  good!).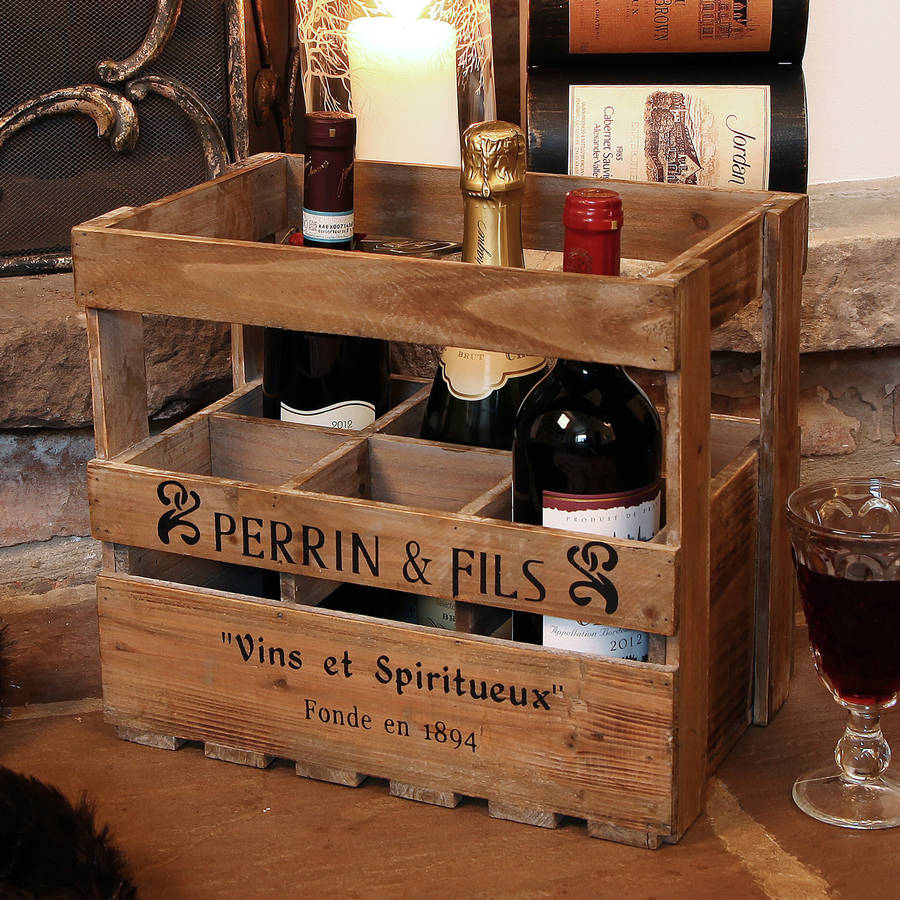 Wooden six wine bottle storage crate
Just because this wine crate has six sections, it doesn't mean it has to be filled up with your favourite reds, whites and rosé. Neither does it have to be wine. Champagne anyone?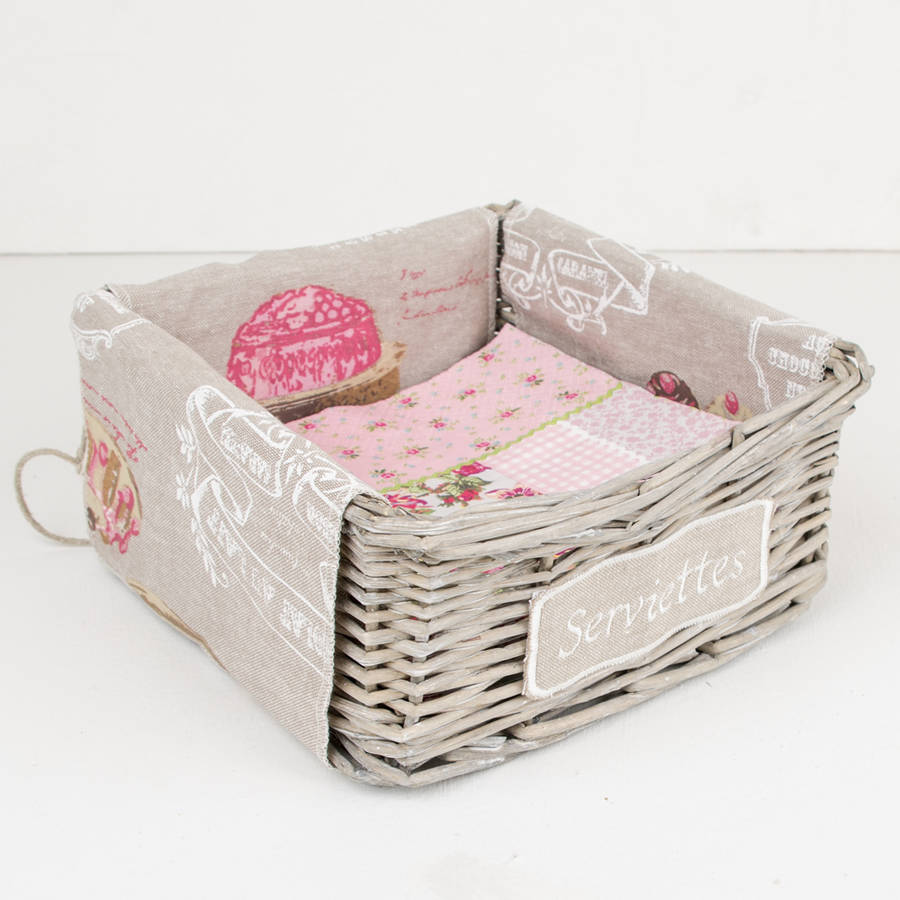 Vintage table napkin holder basket
This vintage basket is great for everyday use on the table. Always a napkin when you need it. I wonder why we call them napkins and the French say serviettes?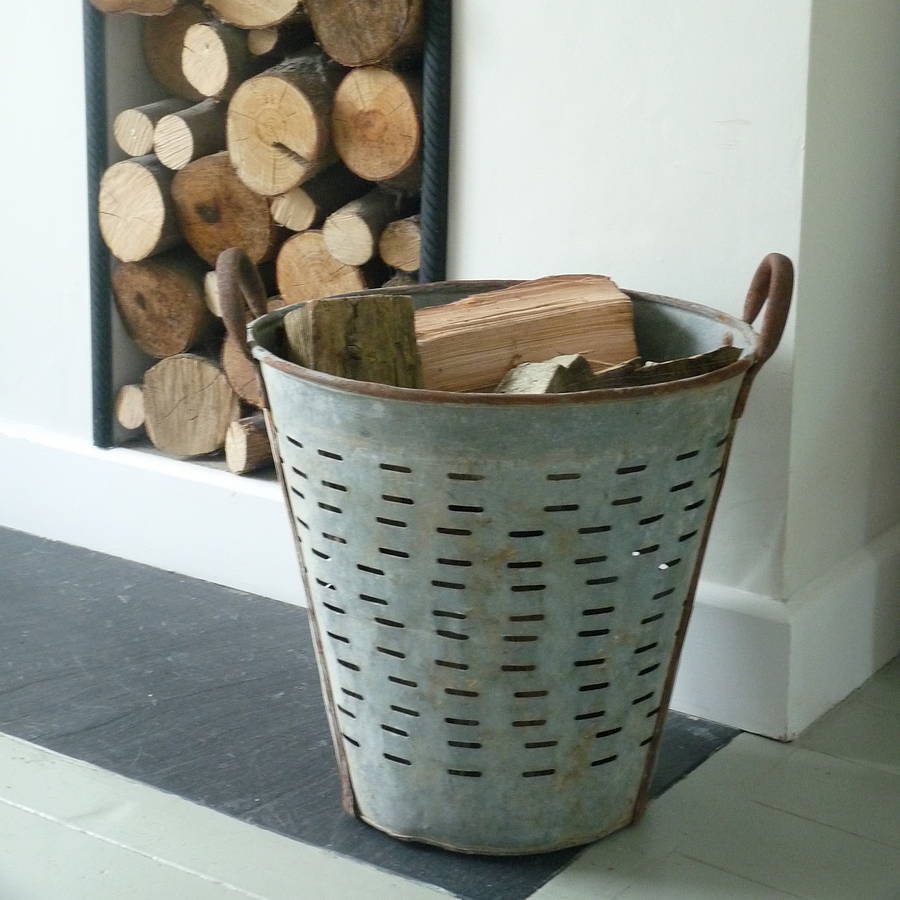 This is one of my favourites. A lovely rustic vintage look of this grape basket. A great container for logs by the fire or boots by the door. What would you use it for?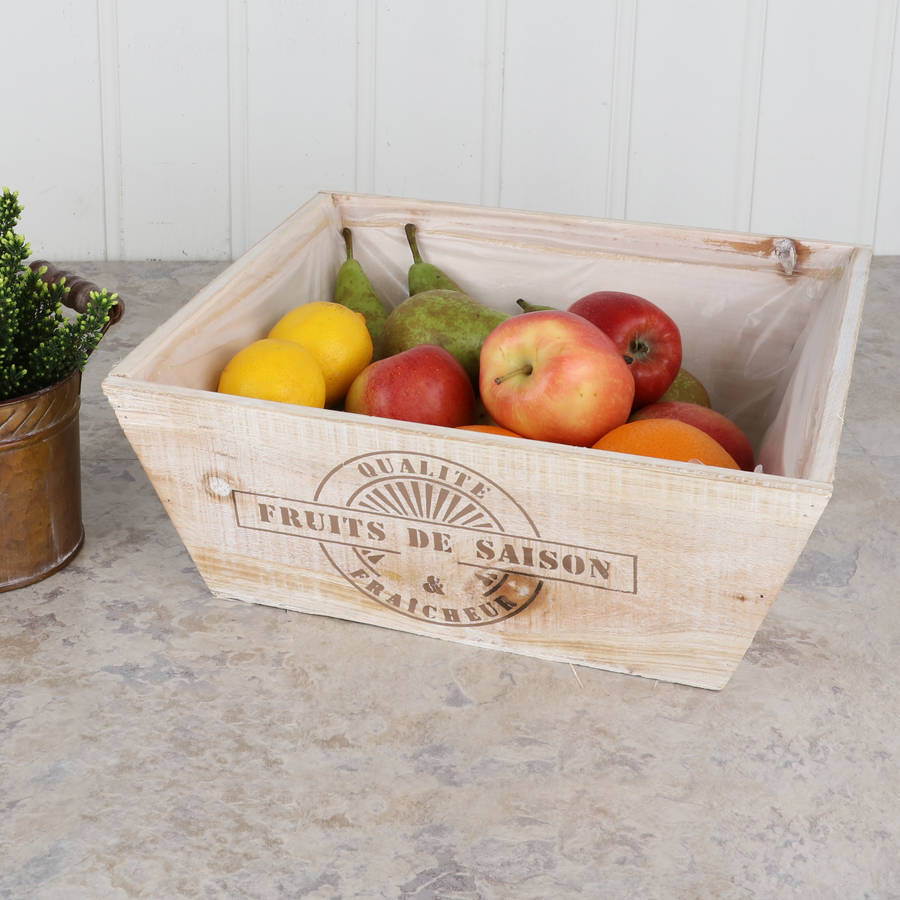 Seasonal fruit square wooden basket
This wooden basket speaks for itself – 'fruits de saison'. A great alternative to the usual fruit baskets and perhaps a tempting way to eat more fruit.
Now this french grey open ended basket could be used for logs or magazines. A great tidy way to keep the newspapers and weekly supplements that take all week to read!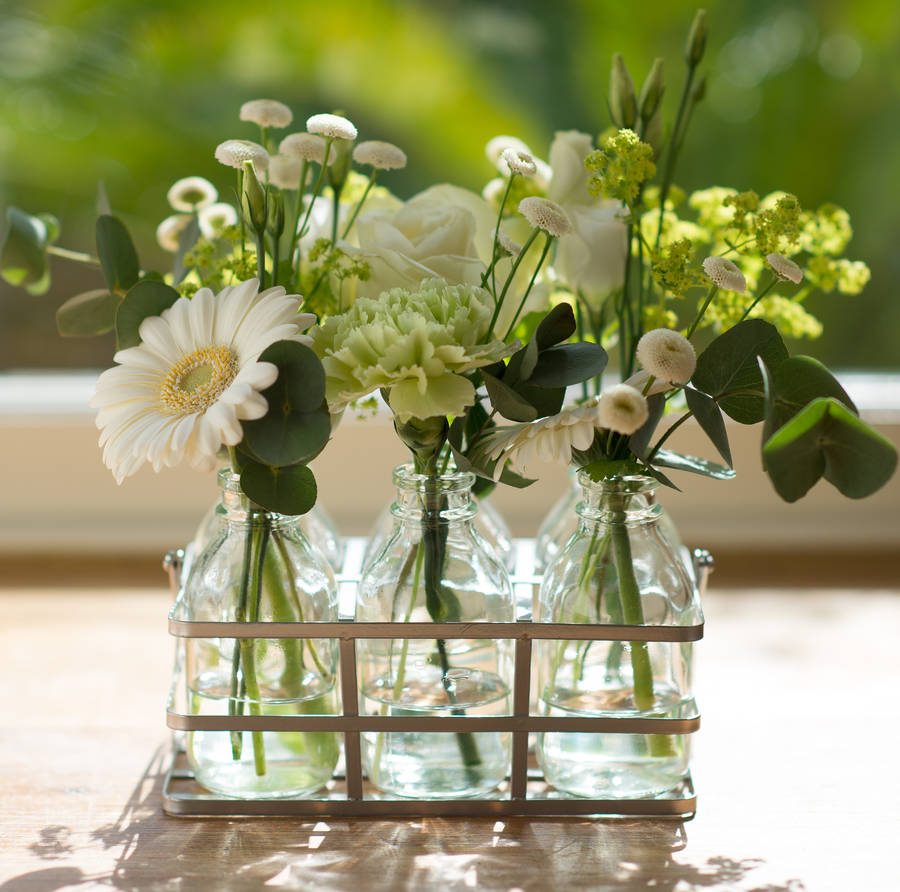 White cottage garden flower bottles
This is a lovely find. Six mini bottles in a vintage style container. It comes complete with a posy of fresh flowers. The best thing is that you can buy top up flowers to be delivered when these blooms fade. Great idea.
No prizes for guessing what the above crate is to be used for.  At least you can see how many eggs are left and when supplies are running low. Seems to give the eggs a rustic farm look when placed in this wooden box.
All of these items are available from notonthehighstreet.com